10-10-2015, 10:52 PM
(This post was last modified: 10-10-2015 10:53 PM by Williamsrt.)

Post: #1
Williamsrt
Genius Status Reinstated


Posts: 3,223
Joined: Nov 2013
Reputation: 8
I need this
10-11-2015, 07:52 AM

Post: #2
rdrdr90
I drive a Pink car. You don't.


Posts: 6,189
Joined: Nov 2013
Reputation: 13
I need this
You so need that!


Sent from my StarTac using Tapatalk
---
They call me Pinque



2010 R/T Challenger 6.4 cam and Maggie @8lbs of boost. Some more stuff, but you get the idea. Installed by Texas House of Hemi. Tuned by the Hemituner!

Please Register or Login to view links.
Garage:
2014 Dodge Durango Citadel
2004 Jeep Grand Cherokee Limited
1970 Plymouth Barracuda (440, M5)....currently residing in Austin
10-11-2015, 08:21 AM

Post: #3
Williamsrt
Genius Status Reinstated


Posts: 3,223
Joined: Nov 2013
Reputation: 8
RE: I need this
I know I could use that on the golf course

10-11-2015, 08:58 AM

Post: #4
BayouTigress
Ms Mayhem


Posts: 1,398
Joined: Nov 2013
Reputation: 5
RE: I need this
Oh I love it!
---
"How fast can you shift in heels.

"
"The first thing you check is the loose nut behind the wheel"
185.3 mph at the 10/14 Texas Mile
11.2 sec @129 mph
10-11-2015, 01:57 PM

Post: #5
Williamsrt
Genius Status Reinstated


Posts: 3,223
Joined: Nov 2013
Reputation: 8
RE: I need this
10-11-2015, 05:39 PM

Post: #6
MAGNUM GT XS22L9R
The 78-79 Magnum XE/GT Specialist!


Posts: 2,015
Joined: Sep 2010
Reputation: 15

RE: I need this
Had something maybe better? Had one of those ATV with 6 wheels and it could go
over water.

Used it for hunting up in Minnesota.
But that's much cooler lookin!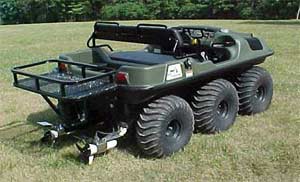 ---
Late B body score!


Latest project:




Please Register or Login to view links.

User(s) browsing this thread: 1 Guest(s)